We were able to get a little bit of downtime this afternoon. Just enough to sit and catch our breath for about an hour. Things would have gone a little more smoothly had three of our boys actually completed their "chores" within a reasonable time instead of playing and dawdling along the way. Although there was the promise of an ice cream treat if our work was completed promptly . . . three of the boys challenged the promise. So . . . since only
One of our boys was an outstanding helper and was rewarded with an ice cream sundae.
Randy and I were thrilled with our Cameron . . . he was our outstanding helper today! Of course, he was thrilled with the ice cream sundae too!
We were saddened our other boys chose their own direction today . . . however, we pray our point was made in this instance.
Only two more loads of laundry are waiting for the washer, two loads are washing and two loads are drying. Today was a heavy laundry day . . . and I just saw more come through since bath time is now done for the night. Laundry is never done . . . well, maybe once in a BLUE moon. I wonder if there are any BLUE moons coming soon?
I am hoping I sleep better tonight . . . last night I only slept about three or four hours and was tired today.
Our Memorial Day Cookout Invites are on their way to our house. I am excited to have family and friends over for an afternoon of fun and fellowship. Here is a look at our invites: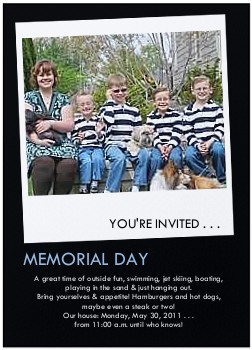 I absolutely love Shutterfly!