My FAVORITE Christmas Cards . . .
My absolute favorite Christmas cards are from Shutterfly.com!!! For many years now, I have taken pictures of our children and loaded them onto my account with Shutterfly.com to make our holiday cards to send to family and friends.
Shutterfly has an extensive array of beautiful cards . . . just about anything you can imagine! This year I chose a simple card of Joy and Love and enough space for seven photos. Here, take a look: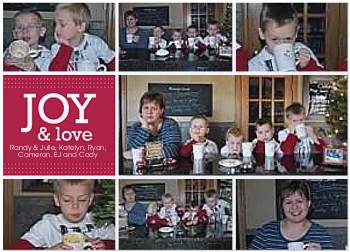 I also really liked this card style and made a few of this style as well: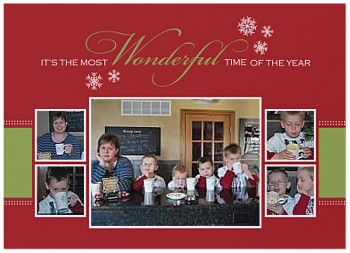 Most Wonderful Year Christmas 5x7 folded card
I love the array of themes . . . there are serious, playful, elegant, fun and sweet, just to name a few. Pair the beautiful themes with your own photos for a spectacular, one of a kind card! Simply play with the design until you are completely satisfied with your results.
Shutterfly photo cards are fun to give and receive! I have received several Shutterfly Photo Cards in the past and have actually framed them to enjoy all year around.
I have always been impressed by the Quality of the Shutterfly cards . . . both the folded and flat cards. The card stock is of a nice weight AND the photo quality is awesome!
Once you order, Shutterfly jumps to action and cranks out your order in a matter of days . . . I have NEVER waited long for ANY order I have made with Shutterfly!
Here is a link to the Shutterfly Christmas Cards:
http://www.shutterfly.com/cards-stationery/christmas-photo-cards
I also love the Photo Mugs . . . they are GREAT gifts for Grandma's and Grandpa's . . . . Here is a link to them:
http://www.shutterfly.com/photo-gifts/photo-mugs
We have an entire collection of Shutterfly photo mugs! lol
Then there is the Photo Gifts . . . Shirts, mouse pads, key chains, necklaces, calendars . . . you HAVE to see the selection!!! All personal AND unique in every way!!!
I encourage you to hop on over to Shutterfly.com and take a look at their AMAZING products!!! The only thing that makes their products better is YOUR Photos!
If you are interested in receiving 50 Photo Cards FREE, simply click the link and follow the onscreen directions!!!
http://bit.ly/sfly2010
Merry Christmas!